If diseases are attacking you, it is time to turn to Ayurveda Clinic in Bansko. There works a licensed Indian team led by Dr. Mahesh Garzhe who is our guru of Ayurveda.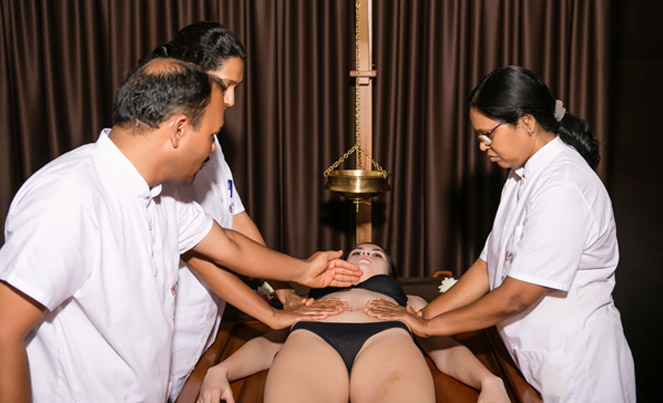 In Ayurveda Clinic Bansko all diseases can be cured. The methods of the ancient Ayurvedic medicine are more than 5000 years old. Originated in India and over time has spread across the world. Today it's practiced basically everywhere.
The treatment is environmentally friendly. It is a complex of treatments and therapies for purification of the body, Ayurvedic nutrition, yoga and meditation. Their combination is different for each patient.
After diagnosis, the Ayurvedic doctor appoints an individual plan. It depends on the body type of the patient, the disease and the extent general health.
Purifying the body of accumulated toxins, pesticides, free radicals, heavy metals, Ayurveda restores natural energy balances associated with physiological functions. So remove the causes of disease.
Based on established diagnose energy imbalance, the Ayurveda doctor can identify approaching illness that has not yet shown any symptoms and prevent it.
Achieved in Ayurveda Clinic Bansko detox the body in a natural way is accompanied by the effect of rejuvenation and beautification.
During the course of treatment you are guaranteed five-star comfort and service – Ayurveda Clinic Bansko is a luxury complex, located in the Lucky Bansko Aparthotel.
In the course you will relax, your tone will be lifted and you will become more energetic. Consultation with Ayurvedic doctor who knows how to take care of your body and mind, not only the illness itself. Because Ayurveda, besides the medicine, is a way of living and thinking.
According to this worldview, health itself is happiness. Without it we cannot be happy and full of life.
The environmentally friendly purification of the body in Ayurveda comes in Purvakarma methods and Panchakarma, whose healing effect is recognized by the World Health Organization.
In Purvakarma, there are used external procedures – massages and pouring medicinal oils, massage and saunas with herbs, thermal treatments. They locate the toxins and beautify help your body prepare for inner purification – Panchakarma. In Panchakarma are combined laxatives and laxative treatments.
The two methods for cleansing are combined with environmentally friendly food by the methods of Ayurveda. It is particularly important because if it is not balanced, it leads to accumulation of toxins in the body.
The food should be used fresh or by freshly prepared products. Of great importance is the way of preparation: bright thoughts with clean clothes in a clean room.
They should be offered with love, served beautifully and to be delicious. Otherwise it will not be useful, even if it is by environmentally friendly products. It should also be served not more than three hours after preparation.
The actual eating process should be at rest, with attention focused on the food. Ayurveda recommends three meals a day.
To treatment and diet plan in the individual Ayurvedic physician includes exercises of yoga, meditation and educational lectures.
The medical courses in Ayurveda Clinic in Bansko are diverse – 7, 10, 14 or 21 days.
Do not let the disease come for you – take care in Ayurveda Clinic!
https://www.ayurvedabansko.com/what-is-ayurveda/