With Ayurveda you will cure the illness in an environmentally friendly way – without swallowing pills that help one organ and damaging the others. In the luxury Ayurveda Clinic Bansko you will get an individual plan, so the treatment may be 7, 10, 14 or 21 days.
But you must not stop here – only to cure the disease. Because your illness, whatever it is, is probably part of a general social problem in our country. They now call us "the most ailing nation".
According to statistics, in recent years our country has the leading spot in Europe in deaths from cardiovascular diseases and tumors.
We say this because the problem can have a variety of reasons, but there is one major that depends on us. This is our own relationship to our own health.
Our eating habits are unhealthy in general – not balanced, we take too much greasy food and bread, many other harmful foods, fast food or in front of the computer. Harassment your body with a complete lack of rhythm of work and rest, increasingly restrict movement and connection with nature.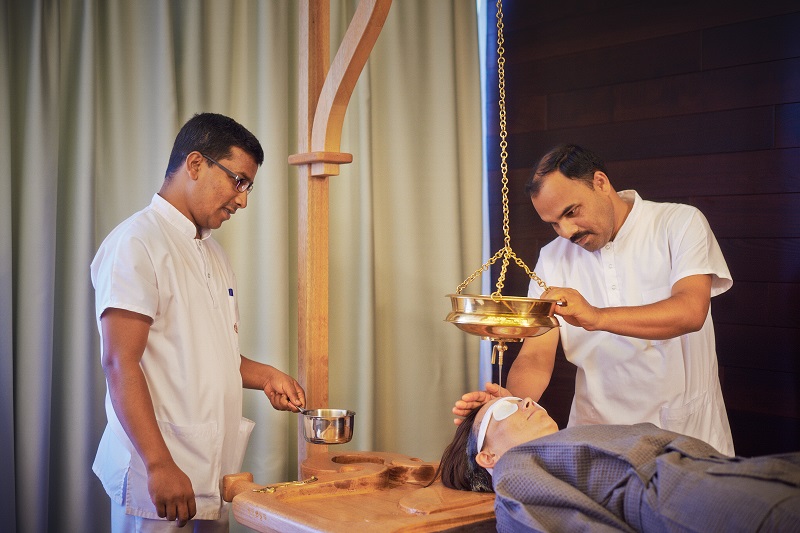 Ultimately, we accumulate in your body heavy metals, pesticides, free radicals, toxins that deplete natural functions. Thus creating the prerequisites for the disease.
Ayurveda, which is more than 5,000 years old, is wisely directed at removing the causes of diseases. Which should be our target too, once we get rid of the disease, so it does not come again harder than before.
As we said, in Ayurveda Clinic in Bansko you will get a personal plan. It will be based on the results of your diagnosis, your individual body type and your general condition.
At Ayurveda Clinic Bansko , which is housed in the five-star Hotel Lucky Bansko, you can contact whatever illness you have. Ancient Ayurvedic medicine has gotten treatment of all diseases.
This luxury clinic in Bansko works licensed Indian team led by Ayurvedic guru – Dr. Mahesh Garzhe. The treatment is based on two main things – environmentally friendly purification of the body and healthy ayurvedic diet.
Using them in different combinations is individual for each patient and is appointed by the Ayurvedic physician.
The complex of treatments and therapies include yoga exercises and meditation. There are also lectures on motivation to respect the principles of Ayurveda and after treatment.
In Ayurveda Clinic Bansko  the detox of the body is achieved by two methods – Purvakarma and Panchakarma. Purvakarma includes external procedures for exercise areas with toxins in the body to prepare for internal cleansing.
Foreign procedures are massages and pouring with oils, herbal saunas, massages with herbal powder, thermal treatments. Only internal cleansing – Panchakarma, going through a cathartic and laxative therapies.
Nutrition is especially important for Ayurveda, it has even a ritual significance. The food must be prepared with a positive clean thoughts and can consume up to three hours after preparation. It is useful only if it is delicious. Served with love, and the consumption must be in a calm state of mind, with attention paid to nutrition.
Do you find any similarities or differences with your regime? You will get the correct answer at Ayurveda Clinic in Bansko. 
https://www.ayurvedabansko.com/purvakarma-and-panchakarma-and-detox/