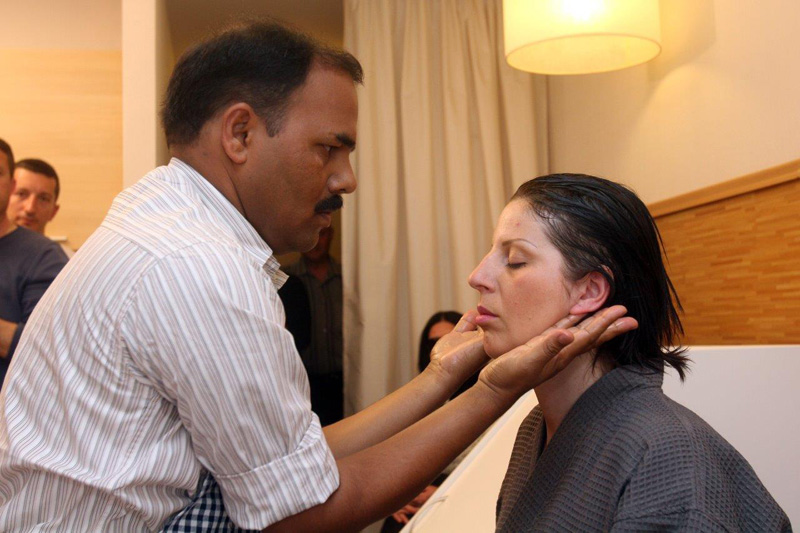 With Ayurveda you will achieve 3 major things which will determine your future life. First and foremost – you will be healed. Thanks to the precise diagnosis of your energy disbalance, our therapists will know to what kind of diseases you are most vulnerable and will take preventive measures. Second, your body will get rid of the harmful toxins. This way you will also get rid of some extra weight, you will look younger and more beautiful, your overall tone will get high and most of all – you will feel more energy and more desire to live. Last, but not least, during your treatment in  Ayurveda Clinic in Bansko you will learn how to get further your progress from the clinic, how to take care of your health and to enjoy your beautiful life.
You will receive a personal schedule for your everyday activities and rest intervals, nutrition plan and how to sustain your healthy body and mind.
Ayurveda treatment dates back 5000 years or more, therefore its medical spectrum is exceptionally large. It locates and treats various diseases within our body. You can use  the Ayurveda Clinic in Bansko in case of gastrointestinal diseases, cardivascular diseases, articular troubles, movement disorders, respiratory problems, multiple sclerosis, childhood or women specific diseases, problems with your skin or hair, as well as many others.
The Ayurveda Clinic also helps with today's "modern" diseases and successfully heals depression, stress and anxiety.
One thing is for sure – you are in the right hands of our team of professionals. The Ayurveda Clinic is the first Indian center in Bulgaria which applies the methods of  Ayurveda for full body purification supervised by a licensed Indian physician with more than 14 years of professional experience, a student of the personal medic of India's Prime Minister. He's being assisted by two to four India therapists who, on the other hand, have 12 years of performing Ayurveda procedures.
Ayurveda is more than an ancient medicine, it's a way to live, a full system to keep the perfect balance between your mind, body and spirit. That's why its methods for detoxification called Purvakarma and Panchakarma, both recognized by the World Health Organization (WHO), come in combination with Ayurveda diet, special gymnastics and relaxation by meditation and yoga. The full plan for nutrition and procedures is created for every individual after the initial examination and diagnosis, according to his or her body type.
The courses take place in the 5-star hotel Lucky Bansko which guarantees you the comfort you deserve and you can only expect in the highest hotel ranks. You can select the longevity of the course – 7, 10, 14 or 21 days. For early symptoms or preventive health care we recommend the 7-day treatment period. For minor ailments is best to choose between a 10-day or a 14-day procedure, and for serious diseases you should be looking at the 21-day special treatment. You'll get medical attention at all times.
Purvakarma combines external procedures – such as oil massages, herbal saunas and hot compressеs – to clean your skin and prepare the body for the internal procedures. The inner-body purification is in the field of the Panchakarma – which takes the toxins, free radicals and heavy metals out of your body using purgative and laxative therapy procedures.
The two methods work best together with the proper and healthy nutrition. The nutrition is of greater importance not only as a source of energy but part of the Ayurveda philosophy for the way of life. The food is both prepared and served ritually – in clean clothes in a clean room – and all the people's thoughts must be bright. This makes the process healthier. The meals must be consumed in totally relaxed condition. Again, this will be combined with special gymnastics, yoga and meditation by your personal physicist who will consider your body type and health condition. Additional lectures on Ayurveda will help you to fully understand how to continue your happy life after the course.
Give it a try, make a change for something greater in your way of life. Make your life an extra happy one!