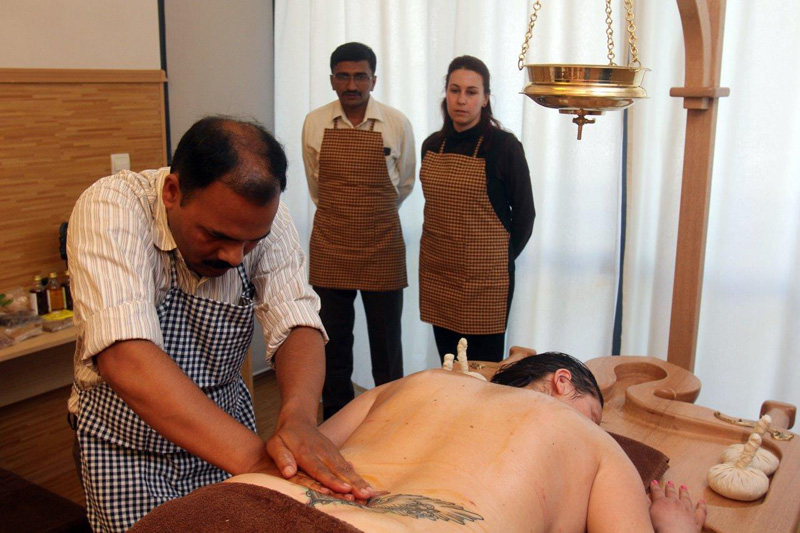 Ayurveda is used to deal with many diseases. However it's not necessary to feel sick in order to take advantage of the proven methods of this Ancient Indian Medicine. Actually Ayurveda is a whole healing system with several different components whose primary focus is to promote good health. In Ayurveda Clinic Bansko you can achieve this delicate balance between the mind, body, and spirit.
Your body will get rid of the toxins, pesticides and heavy metals; your mind will be cleared, and your spirit will be set free. You will feel more relaxed and at the same time having more energy to do anything you want, your immune system will become stronger and overall you will look younger and more beautiful. A personal consultation with an experienced Indian Ayurveda physician will help you to further increase your progress even after you finish the clinic's program. With its proven tradition and efficiency, Ayurveda Clinic Bansko is the first Indian center in Bulgaria to offer its clients medical care in the ancient Ayurveda methods for full body purification and to also include beauty and rejuvenation procedures in Purvakarma and Panchakarma techniques.
In this treatment center, which is part of the luxury hotel Lucky Bansko, you will meet a licensed Indian physician with more than 14 years of professional experience, with bachelor's degree in Ayurveda, and he was trained  by the personal medic of the Indian Prime Minister. The therapy procedures are being performed by two Indian therapists with more than 12 years of experience in the Ayureda methods. It's very important that every patient is being treated individually, therefore the maximum number of patients at the same time in the clinic is limited to 6. The program is designed for both patients who have a certain disease or complain and for those who look forward to beauty, rejuvenation and detoxication procedures. It's worth mentioning that despite the ancient background, the World Health Organization (WHO)  sees Ayurveda as a traditional medical system.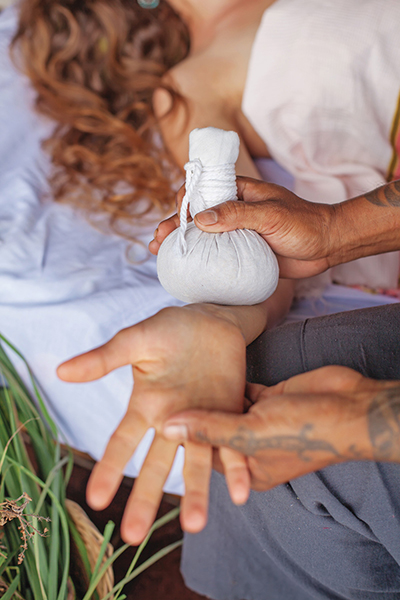 As a matter of fact, the Organization borrowed its formal health definition
from the teachings of Ayurveda. Ayurveda methods are good for taking care of: gastrointestinal diseases, cardiovascular diseases, respiratory problems, articular troubles, excretory organs, childhood or women specific diseases, even for psychological conditions like to heal depression, and movement disorders. The range of the Ayurveda methods is so large that it can be also used to fight tumors. For early symptoms or preventive health care we recommend the 7-day treatment period. For minor ailments is best to choose between a 10-day or a 14-day procedure, and for serious diseases you should be looking at the 21-day special treatment.
Ayurveda focuses first and foremost to cure energy disbalance which usually leads to physical complains and problems. Because of today's busy lifestyle which lacks regular physical activity and includes unhealthy foods and drinks, our body contains big amounts of toxins, the so called "Ama". In Ayurveda, ama is the residual of undigested or partially digested food, which is commonly caused by a poor digestive fire
(jatharagni). This residual can collect, stall, ferment and lead to a disease. It is the earliest form of disease symptoms in the body.  But you shouldn't be too worried if you take measures on time. Thanks to the Purvakarma and Panchakarma techniques your body can gradually get rid of all the toxins.
The body purification method in Purvakarma is a combination of external procedures – several types of oil massages, a herbal sauna, an intense warm compress, and other thermal procedures – to prepare the body for the internal purification part. Panchakarma is the combination of internal procedures which is responsible for taking the toxins, free radicals and heavy metals out of your body using purgative and laxative therapy. The two methods work best together with the proper and healthy nutrition. The menu is different according to your body type and condition. The healthy diet includes 3 meals a day which consist of vegeratian food, a few lactic products, detoxicating tea and bio-foods. All of this comes with special gymnastics, yoga and meditation by your personal physicist. Since the program aims at long-term results, you will also attend lectures about "What is Ayurveda – major principles and how to live longer" for better understanding of the system as a way to live.
Don't hesitate – better safe than sorry – Ayurveda Clinic Bansko is always here for you!