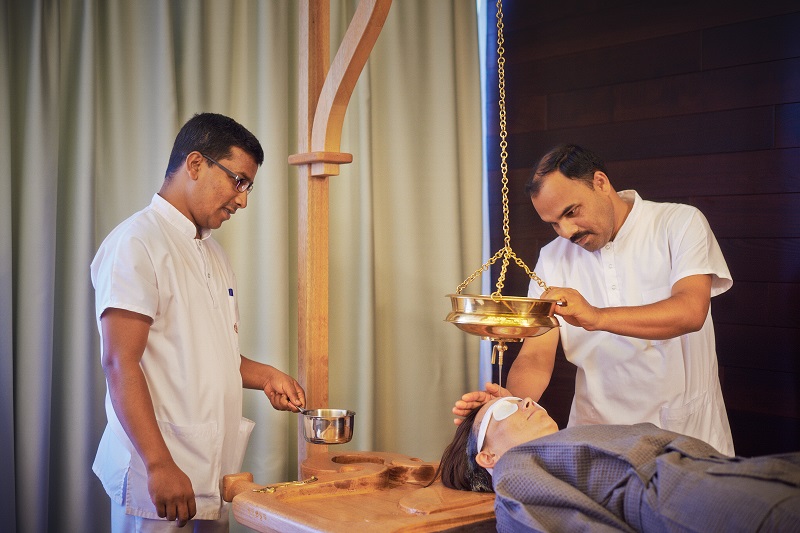 Are you getting tired more easily than before? And  your blood pressure is high? Do you have stomach problems, joint pain, bad sleep or anxiety? … You can get rid of  all these and other most common diseases of our modern life caused by the unhealthy sedentary way of life  and unhealthy diet with the help of Ayurveda.
This ancient Indian medicine existing from more than 5000 years, whose methods today are approved by the World Health Organization and it has a great range of abilities to heal   many diseases. It is a health system, a combination of fulfilled way of life, a therapy for body, mind, senses and spirit. Its procedures cleanse more than 50% of the heavy metals and  substances in the organism, the body regenerates, revitalizes,  and restores its natural function; the serenity, balance and the active and normal body function returns. And what is more – the disease process is very precisely determined in Ayurveda before the obvious signs of the illness are confirmed.
By discovering the early symptoms of disbalance and the body reaction, the Ayurvedic doctor can determine also a future disease. In this way the Ayurveda  procedures helps the healthy person to preserve their health, and the ill person – to get it back.
You can find treatment and tonus improvement with this ancient medicine in Ayurveda Clinic Bansko – the first Indian center in Bulgaria that offers treatment according to the system Ayurveda with a complete body cleanse,  beautification and rejuvenation using the methods Purvakarma and Panchakarma. This body cleanse from  toxins, free radicals and heavy metals is combined with a special diet. It is strictly individual as it depends on your condition and is made by the clinic's specialists. All this is combined with a remedial gym, rest, also prescribed by the clinic's Ayurvedic doctor.
The conditions in the Ayurveda Clinic Bansko are like in a five-star hotel, because the clinic is situated in a five-star hotel, it uses the base of aparthotel Lucky Bansko.
What are the procedures? Purvakarma is a combination of procedures – oil use, herb sauna, warm compresses, oil pour over, massages with herbs and oils, thermal procedures that takes out the toxins out of the body and help the healthy body and skin beautification.
Panchakarma is a method of internal cleansing of the body by a combination of cleansing and laxative therapies.
The diet plan is individual but in general  Ayurveda pays big attention to the food as a source of vital energy. Fresh and quality products or freshly prepared products at an appropriate time are consumed. Ayurveda recommends 3 portions per day and the food should be tasteful to the person as in this way it will be healthy for them.
What diseases are exactly treated? There are many:  digestive system disorder, body acidity, constipation, colitis, hemorrhoids, different types of hepatitis; high blood pressure, coronary artery disease, cardiovascular diseases, sinusitis, cough, cold urticaria, arthritis; spondylosis, spondylitis, gout, kidney stones, prostatitis, kidney failure, psoriasis, eczema, hair loss, acne, female diseases, menstrual problems, cysts, fibroma, infertility, child diseases, immune deficiency, cold and cough, undernourishment, lack of focus in studying, psychological problems: addiction, depression, sleep disorder, anxiety;  paralysis,  brain stroke traumas… And there is more!
The courses are conducted in a period of 7, 10, 14 days. The specialists from the clinic say that 7-day treatment period is suitable for the health treatment and healing of disease symptoms. The 10-day and 14-day period are suitable for the treatment of mild disease processes. The 21-day treatment period is appropriate to more serious health problems.
During this period you will be under constant care that includes medical examinations and care, therapies with traditional therapeutic oils, herbs, detox tea, bio food prepared according to the rquirements of the Ayurveda system, time for a rest, yoga and meditation.
Of course, if you don't suffer from any disease, you won't be treated because the focus will be on your cleansing, rejuvenation and beautification.
In fact Ayurveda in translation from Sanscrit  means "ayur"/ life/ and "veda" /knowledge/.
The Ayurveda principles  declare that the healthy person is a happy  person  and the more healthy we are, the happier we are.
If you also think this is true – search for Ayurveda Clinic Bansko!