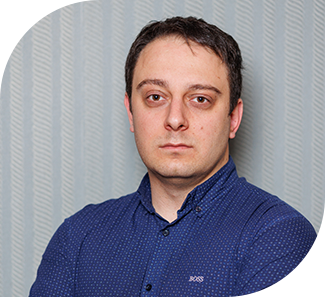 Asen Teofilov – Supervisor
Ayurveda Clinic Bansko is managed by Asen Teofilov – a highly qualified and experienced physiotherapist who works diligently for the successful operation and development of the clinic
Qualification
• In 2010 he completed his secondary education at PGTHT Nikola Stoychev, Razlog, majoring in Catering. The specialized training course prepares him for the profession of restaurateur and the acquired knowledge and skills for organization and management lay a solid foundation for his future career development.
• In 2014, Asen Teofilov graduated in Kinesiotherapy from the Faculty of Public Health, Health Care and Sports at the Southwestern University Neofit Rilski. His bachelor's degree qualifies him to work in kinesitherapy and sports centers, performing functional-diagnostic, preventive, curative and rehabilitation activities in all age and professional groups.
• He has completed several specialized training courses and obtained the following certificates:
– Manual mobilization of the spine and Manual mobilization of the peripheral joints (2013), issued by the Association of Physiotherapists in Bulgaria.
– Certificate for practice in a real work environment, issued by Dr. Petranka Todorova-Belichina, IPSMP in Physiotherapy and Rehabilitation (2014).
– Certificate of work according to the 5-star standard issued by the English training company Resense (2016).
Practice
– In the period 2014 – 2016 he worked at the luxury hotel Mealia Grand Hermitage in Golden Sands, where he combined the functions of physiotherapist and training therapist at the spa, following the standards of the Spanish chain Sol Hotels.
– His professional path continues in Kempinski Hotel Grand Arena Bansko (2016 – 2017), where he is a physiotherapist, specialist in physiotherapy and rehabilitation of people in the postoperative period until their full recovery.
– In 2017 Asen Teofilov became part of the team of aparthotel Lucky Bansko SPA & Relax ***** SPA center. Soon after, his professionalism, organizational skills and dedication to work raised him to head of the specialized clinic of the Ayurveda Clinic Bansko.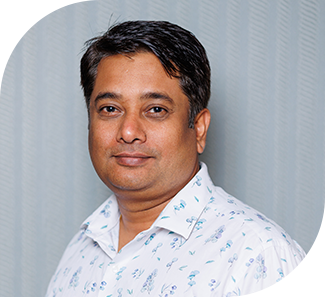 Dr. Balaji Pavar is a highly qualified Ayurvedic doctor with impressive practical experience.
Qualification
In 2001 he graduated from the prestigious Ayurvedic College with officially recognized status of Bharati Vidyapeeth University in Pune with a degree of B.A.M.S. – Bachelor of Ayurvedic Medicine and Surgery.
In 2006, he obtained a Master's degree in Ayurvedic Pharmacology (MD/MS Ayurved – Ayurved Vachaspati & Ayurved Dhanvantari).
He is currently an Associate Professor (docent) at LRP Islampur Ayurvedic Medical College in Maharashtra, Southwest India, and a guest lecturer at various seminars, workshops and conferences on Ayurvedic medicine.
Practice
Dr. Balaji Pavar began his medical practice in 2001. He gained experience in Ayu care hospitals (Trisur, Kerala) and Punarvasu (Puna, Kerala).
His mentors are the famous Ayurveda teacher Raghavan Thirumulpad (Kalakudu, Kerela) and Dr. Sanjay Pandaze
In 2004 he opened his own clinic, where he practiced treatment of diseases, detoxification, wellness and rejuvenation.
At the same time, he is an Ayurvedic consultant who works with patients to change their lifestyle.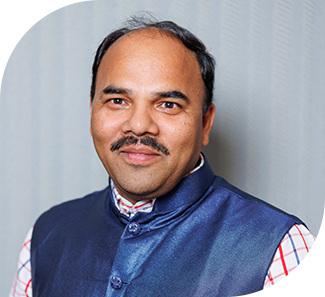 Ayurvedic therapist Vilas Narayana Mangale
Villas Mangale has a Master\'s degree in Panchakarma medicine. He has graduated from one of Ayurveda\'s most famous and prestigious schools, "Arsha Yoga Vedyappetham Coimbatore".
Qualification
Villas Mangale has a Master\'s degree in Panchakarma medicine. He has graduated from one of Ayurveda\'s most famous and prestigious schools, "Arsha Yoga Vedyappetham Coimbatore".
Practice
Villas Mangale is a specialist in Panchakarma procedures. Currently, he is teaching it in the school where he graduated. He has more than 14-year experience in the Panchakarma field. He is a specialist in the preparation of herbal medicines used in various Ayurvedic therapies. He also produces various herbal mixtures designed for every individual dosha type.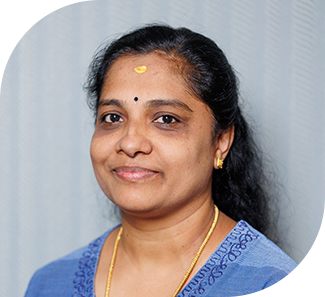 Ayurveda therapist Sumi Rajappan Pillai
Sumi Rajappan Pillai is an Ayurvedic international therapist with proven competence and experience in the field of the ancient healing system.
Qualification
Her professional specialization covers the full range of ayurvedic therapies and practices that she performs through strict adherence to authentic techniques.
She holds a diploma for Ayurveda Pancakarma therapist, SSLC institute, India.
Practice
For 12 years she has been working as an Ayurvedic therapist at Sivarya Ayurvedic Hospital, Chathannoor, India.
Since 2017, Sumi Rajappan Pillai is part of the Ayurveda Clinic team.
Thanks to her professionalism, sense of responsibility and social skills she is committed to implementing of all the treatments and procedures offered in the clinic.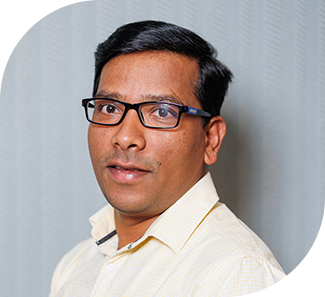 Ayurveda therapist Dhanaji Maruti Dhokare
Dhanaji Maruti Dhokare is a certified Ayurveda Panchakarma therapist with 12 years of professional experience.
Qualification
Dhanaji Maruti Dhokare has reached the highest, expert level in the application of traditional Ayurvedic massages and therapies.
Practice
Most of Dhokare's career has been spent in various hospitals and clinics in India.
He works with orthopedic surgeons and specializes in Ayurvedic rehabilitation for joint and spine problems.
He has been a member of the team of Ayurveda Clinic Bansko for 3 years.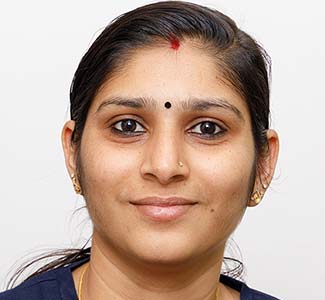 Ayurveda therapist Bindu Thomas
Bindu Thomas is a highly motivated specialist who strives for continuous improvement of her professional qualities and skills.
Qualification
Bindu Thomas is an international therapist in Ayurveda.
She holds a degree in Ayurveda Panchakarma from the Institute of Nursing in BHARAT SEVAK SAMAJ / MEDI PLUS AYURVEDA COLLEGE OF NURSING -ALAPPUZHA.
She performs all types of massages and body treatments, including: aromatherapy, foot reflexology, deep tissue, and Swedish massage, full body peeling, facials, head and shoulder massage, manicure, pedicure and others.
Practice
For 5 years, Bindu Thomas has worked as an Ayurvedic and SPA therapist in various centers and complexes in her homeland – India.
There are consecutive practices in:
NAMMIHEALTH RESORT – ERANAKULAM
AYURKSHETHARA AYURVEDA HOSPITAL – CHERTHALA
THALIYOLA WELLNESS PROPERTY WHISPERING WATERS – COCHIN
AYURVEDA AND YOGA KERALA CENTER – MASCOW ,RUSSIA
M AYURVEDA WOMENS HOSPITAL – ERNAKULAM
Since the AUGUST of 2022 she has been a cosmetic and Ayurvedic therapist at BANSKO AYURVEDA CLINIC.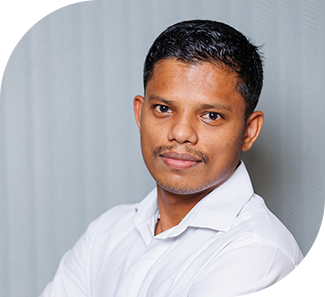 Ayurvedic Chef Riju Sleeba Puvathungal
He graduated with honors from the prestigious Food Craft Institute in Kalamassery, Kerala. He holds a diploma in the methods of preparing Ayurvedic and other dishes (F&B Production).
Qualification
He graduated with honors from the prestigious Food Craft Institute in Kalamassery, Kerala. He holds a diploma in the methods of preparing Ayurvedic and other dishes (F&B Production). His extensive CV displays numerous certificates from cooking courses in Kerala, India.
Practice
His professional development began with a 3-month training course at Kalari Kovilakom Ayurvedic Clinic.
Showing excellent knowledge and demonstrating enviable skills in preparing Ayurvedic dishes he was quickly noticed by one of the biggest hotels in India. Worked for 6 months as COMMI-1 Chef at the five star coastal resort The Raviz Kovalam. Since 2022, he has been part of the team of Ayurveda Clinic Bansko.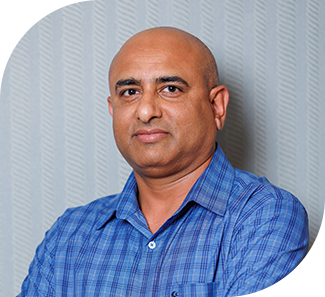 Kamal Kishor – Yoga instructor
Kamal Kishor began practicing yoga at the age of 12 under Satyananda Saraswati at Devine Life Society, Rishikesh, India.
Qualification
In August 2007 he participated in a 21-day yoga course for maintaining good general health, organized by the Bihar School of Yoga, Munger (Bihar), India
For three years, from 2012 to 2015, Kamal Kishor studied different types of yoga: Satyananda yoga, Raja yoga, Kundalini yoga, Kriya yoga, Mantra yoga, Nada yoga, and yoga for children, Vedic rituals to harmonize the chakras and life. , Sanyasa Yoga, created by Satyananda Saraswati.
Practice
In 2013 he participated in the preparation of the next edition of the World Yoga Convention, held in Bihar, India.
In the period 15 – 29 March 2015 he held yoga courses and thematic concerts in Timisoara and Bucharest (Romania) for the Rabindranath Tagore Cultural Center Association.
From May 2015 to January 2016 he visited various spiritual and yoga guides in the Himalayas, with the help of which he deepened his knowledge and improved his skills in practicing yoga.
Here you can make
your reservation