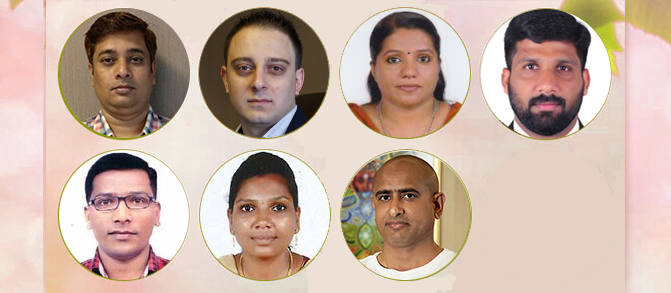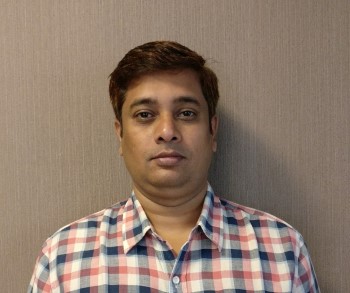 Doctor Balaji S. Pavar
Education and work experience: Dr. Balaji Pavar is a highly qualified doctor in Ayurveda with impressive practical experience.
In 2001, he graduated from the prestigious Ayurvedic College with an officially recognized Bharati Vidyapeeth University status in Pune with B.A.M.S. – Bachelor of Ayurvedic Medicine and Surgery.
Five years later, in 2006, he obtained a Masters Degree in Ayurvedic Pharmacology (MD/MS Ayurved – Ayurved Vachaspati & Ayurved Dhanvantari).
Dr. Balaji Pavar began his medical practice in 2001. He gained experience in Ayu Care (Tusur, Kerala) and Punarvasu (Pune, Kerala) hospitals.
His mentors are the famous Ayurveda teacher Raghavan Tirumulpat (Kalakudu, Karela) and Dr. Sanjay Pandase.
In 2004, he opened his own clinic where he practiced illness, detox, wellness and rejuvenation, and at the same time was an Ayurvedic consultant who worked with patients for improving their lifestyle.
Good preparation and valuable experience are a natural extension in Dr. Pavar's statements as a lecturer.
He is an associate professor at the LRP Islampur Ayurvedic Medical College in Maharashtra, Southwest India, and guest lecturer at various seminars, workshops, and Ayurvedic medical conferences.
Ayurvedic therapist Dhanaji Maruti Dhokare
Education and work experience: Dhanaji Maruti Dhokare is a certified Ayurvedic Pancakarma therapist with 12 years of professional experience.
Most of Dhokare's career is in various hospitals and clinics in India, where he works with orthopedic surgeons and specializes in Ayurvedic rehabilitation for joint and spinal problems.
As a result of the experience, the therapist has reached the highest, expert level in the application of traditional Ayurvedic massages and therapies.
He has been a member of Ayurveda clinic Bansko team for 3 years.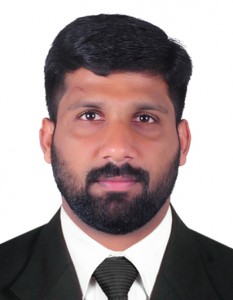 Ayurvedic therapist Anoop M. T.
Education and work experience: The Indian therapist Anoop M. T. is a prospective young professional specializing in the field of the ancient health science called Ayurveda and the method Panchakarma.
In 2006, he graduates with honors from the Mar Elias High School, Kottappady and in 2008 meets the highest requirements of the State examination committee in Kerala for obtaining a diploma for secondary special education from the same school.
In the same year, Anoop receives a diploma in Panchakarma – a main method in the Ayurvedic medicine, from Nagarjuna Ayurvedic center in Kaladi.
The professional path of the young specialist begins at the prestigious Sarathy Ayrvedic hospital in Aluva where he works for 7 years (2009 – 2016).
His career continues at the Namami Wellness center in Malayattoor – a popular tourist destination in the state of Kerala, South India.
In 2017 the obtained experience and skills take Anoop to the first-class RCM Wellness center in Thrippunithura.
A year later, in search of new challenges and field of activities, the ambitious young therapist leaves his native India in order to join the team of Ayurveda Clinic Bansko.
Anoop is highly motivated to develop his personal potential by staying true to the centuries old traditions in the application of Ayurvedic therapeutic and medicinal methods.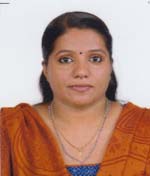 Ayurvedic therapist Ashly V. A.
Education and work experience: Ashly V. A. is an international Ayurveda therapist. Proactive, well trained and strongly motivated, she is a follower of the holistic approach which looks at the human being as a triune essence that unifies the physical, mental-emotional and spiritual beginning.
Ashly V. A. has over 8 years of professional experience.
For two years (2004 – 2006) worksas an Ayurvedic therapist at Inlaks and Budhrani hospital, Pune and one year at the Ayush therapeutic center in Mumbai.
From 2007 until 2012 he was part of the staff of the 5-star resort complex Ananda SPA in the Indian Himalayas with focus on Ayurveda practices combined with popular SPA procedures.
The exclusive specialization in the complex, the high standards and dynamics of the environment increase significantly the professional qualification of Ashly who combines his functions as an Ayurvedic therapist, coordinator and administrator.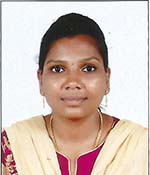 Ayurvedic therapist  Jyothy S. R.
Education and work experience: Jyothy S. R. is an international Ayurveda therapist. A creative and responsible specialist, she is a strongly motivated specialist who aims to constantly improve her professional qualities and skills.
Jyothyi has a certificate in Ayurveda Panchakarma from the Nurse Institute in Tapuja.
For 8 years she has been working as an ayurvedic and SPA therapist in various centers and complexes in India, among which: Shathaou Ayurveda, Hyderabad, Sanjayan Ayurveda (Medimix), Bangalore, Cadalterraum Ayurveda Complex, Varkala (Kerala), Ammanna Spa Resort, Kusalanagar.
From the beginning of 2016, she is a cosmetic and ayurvedic therapist at Tamara Coor Resort, Karnataka, which is among the 25 best resorts in India.
In her work, Jyothy S.R adheres to the highest established standards. She carries out all kinds of massages and body treatments including: aromatherapy, hot volcanic therapy, soothing reflexology, deep-tissue, Balinese and Swedish massage, whole body peeling, face procedures, head and shoulder massage, manicure, pedicure and others.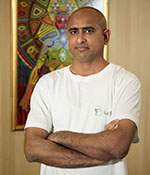 Kamal Kishor       Yoga instructor
Education and work experience: Kamal Kishor began practising yoga at the age of 12 under the guidance of Swami Saraswati in the Divine Life Society, Rishikesh, India.
In August 2007, he participated in a 21-day yoga course to maintain good general health, organized by the Bihar School of Yoga, Munger (Bihar), India.
For three years in a row, 2012-2015, Kamal Kishor studied different types of yoga such as: Satyananda Yoga, Raja Yoga, Kundalini Yoga, Kriya Yoga, Mantra Yoga, Nada Yoga, yoga for children, Vedic rituals to harmonize chakras and life, Sanyasa Yoga which was created by Swami Saraswati.
In 2013, he participated in the preparation of the World Yoga Convention which was held in Bihar, India.
Between 15 and 29 March 2015, he held yoga courses and thematic concerts in Timisoara and Bucharest (Romania) for Rabindranath Tagore Cultural Centre.
From May 2015 to January 2016, he visited various spiritual leaders and yogi in the Himalayas who help him deepen his knowledge and improve his skills in practising yoga.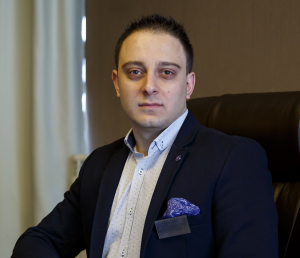 Asen Teofilov Manager
Education and work experience:Ayurveda clinic Bansko is managed by Asen Teofilov – a highly qualified and experienced kinesiotherapist dedicated to the successful functioning and development of the clinic.
In 2010, he completed his high school education in Razlog's Nikola Stoychev Tourism and Food Technologies Vocational School, majoring in Catering. This special training course prepared him for the profession of restaurateur, whereas the knowledge and organizational and management skills acquired by him laid the sound foundations of his future career development.
In 2014, Asen Teofilov graduated in Kinesiotherapy at the Faculty of Public Health, Health Care and Sports of the Neofit Rilski South-West University. His Bachelor's degree qualified him to work in kinesiotherapeutic and sports centers where he performed functional-diagnostic, prophylactic, healing and rehabilitation activities among groups of all ages and professional backgrounds.
Over the next three years he continued his professional development by attending several special training courses and obtained a certificate for Manual Spinal Mobilization and Peripheral Joints Manual Mobilization (2013) issued by the Bulgarian Association of Physiotherapists; certificate for practice held in a real working environment issued by Dr. Petranka Todorova-Belichina, Special Medical Care Individual Practice in Physical Therapy and Rehabilitation (2014); and certificate for work done under a 5-star standard issued by the English training company Resense (2016).
In the period 2014-2016, he worked in the luxury hotel Melia Grand Hermitage in Golden Sands Resort where he combined the duties of kinesiotherapist and trainer therapist at the SPA Center, observing the standards of the Spanish chain Sol Hotels.
He continued his professional career in Kempinski Hotel Grand Arena Bansko (2016 – 2017) where he worked as a kinesiotherapist and specialist in physiotherapy and rehabilitation of people in post-surgery period until their complete recovery.
In 2017, Asen Teofilov joined the team of the SPA Center in aparthotel Lucky Bansko SPA & Relax ***** and shortly after, thanks to his professionalism, organizational qualities and job dedication, he became head of the specialized clinic in Hotel Bankso Ayurveda.