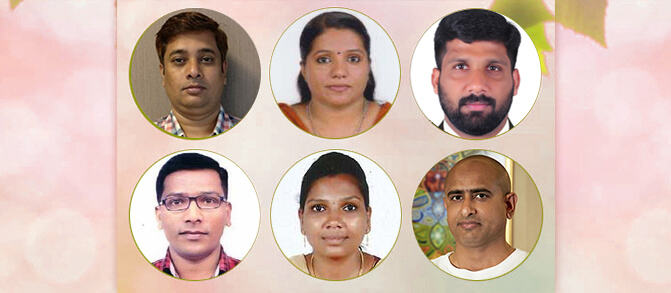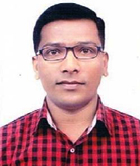 Ayurvedic therapist Dhanaji Maruti Dhokare
Education:He is a certified Ayurvedic Panchakarma therapist. Work experience: He has 12 years' experience in Panchakarma therapy. He has worked for many renowned Ayurvedic institutions in India. He is an expert in different kinds of traditional Ayurvedic massages and therapies. He works for orthopedic surgeons in Pune, India. His main focus is Ayurvedic rehabilitation problems with the spine and joints.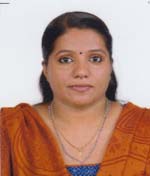 Ayurvedic therapist Ashly V. A.
Education: Ashly V. A. is an international Ayurveda therapist.
Work experience: Proactive, well trained and strongly motivated, he is a follower of the holistic approach which looks at the human being as a triune essence that unifies the physical, mental-emotional and spiritual beginning.
Ashly V. A. has over 8 years of professional experience. For two years (2004 – 2006) worksas an Ayurvedic therapist at Inlaks and Budhrani hospital, Pune and one year at the Ayush therapeutic center in Mumbai.
From 2007 until 2012 he was part of the staff of the 5-star resort complex Ananda SPA in the Indian Himalayas with focus on Ayurveda practices combined with popular SPA procedures. The exclusive specialization in the complex, the high standards and dynamics of the environment increase significantly the professional qualification of Ashly who combines his functions as an Ayurvedic therapist, coordinator and administrator.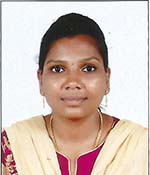 Ayurvedic therapist  Jyothy S. R.
Education:Jyothy S. R. is an international Ayurveda therapist. Work experience: A creative and responsible person, she is a strongly motivated specialist who aims to constantly improve her professional qualities and skills. Performs all types of massages and body procedures in compliance with the highest standards. Has significant experience in the following fields: aromatherapy, therapy with hot volcano stones, reflexotherapy of the feet, deep tissue, Bali and Swedish massage, complete body peeling, facial procedures, massage of the heads and shoulders, manicure, pedicure, etc.
Jyothyi has a certificate in Ayurveda Panchakarma from the Nurse Institute in Tapuja. She has acquired her professional experience as an Ayurvedic therapist in several recognized Indian companies.
She has worked for three years at the Shathayu Ayurveda Center for Ayurveda, Haiderabad and one year at Sanjeevanam Ayurveda (Medimix), Bangalore. She has obtained additional experience at the Kadaltheeram Ayurveda complex, Varkala (Kerala).
For more than a year she worked as a SPA therapist at Amanavana SPA Resort, Kushalanagar. Since February 2016 she has been working as a cosmetic and Ayurvedic therapist at Tamara Koorg Resort, Karnataka which is among the 25 best resort complexes in India.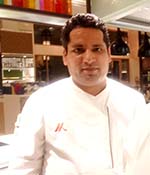 Mukesh Mamgain Chef
Qualification: Mukesh Mamgain is a professional cook, expert in the preparation of Indian curry.Work experience:With his over 15 years of professional experience obtained at recognized restaurants and hotel chains in India and the region, he has proven his qualities, competence and reliability. His career starts from the Sangeeta restaurant in Mumbai where for three years (2000 – 2003) acquires basic knowledge and experience in the culinary art. His specialization in the preparation of food and beverages begins in 2003 consequently taking the positions of assistant chef and first assistant chef in the Indian curry section at prestigious hotels in:
India – Westend Inn and Lohmod (New Delhi)
Republic of Mauritius – Sentosha Enterprise and Rehm Grinkaer (Port Louis)
Vietnam– Saigon.
His personal qualities and high professionalism send him to the prestigious 5-star hotel chain Ananta Spa and Resort where he worked for more than three years (Pushkar and Udaipur). Since 2017 Mukesh Mamggain's career has entered inti a new higher stage occupying the position of Person responsible for the production at the 5-star luxury hotel Marriott Spa and Resort (Jaisalmer, India).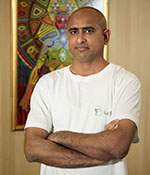 Kamal Kishor       Yoga instructor
Education: Kamal Kishor began practising yoga at the age of 12 under the guidance of Swami Saraswati in the Divine Life Society, Rishikesh, India.
Work experience: In August 2007, he participated in a 21-day yoga course to maintain good general health, organized by the Bihar School of Yoga, Munger (Bihar), India.
For three years in a row, 2012-2015, Kamal Kishor studied different types of yoga such as: Satyananda Yoga, Raja Yoga, Kundalini Yoga, Kriya Yoga, Mantra Yoga, Nada Yoga, yoga for children, Vedic rituals to harmonize chakras and life, Sanyasa Yoga which was created by Swami Saraswati.
In 2013, he participated in the preparation of the World Yoga Convention which was held in Bihar, India. Between 15 and 29 March 2015, he held yoga courses and thematic concerts in Timisoara and Bucharest (Romania) for Rabindranath Tagore Cultural Centre.
From May 2015 to January 2016, he visited various spiritual leaders and yogi in the Himalayas who help him deepen his knowledge and improve his skills in practising yoga.