The face is compared to the radiance of the moon – it should shine bright, just like her.
In Ayurvedic practice, facial skin care can be done in two ways:
1. With a face mask
2. With facial massage oils
Below we describe the methods and products used to maintain smooth, radiant and healthy facial skin in Ayurveda.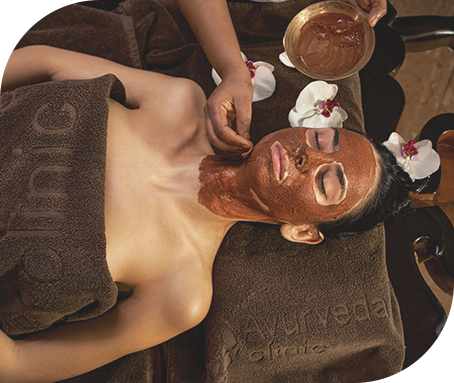 Ayurvedic texts describe herbs called varnya, which are used only to improve the condition of facial skin.These are:
The face mask is prepared with plain or rose water, milk or milk fat.
Conditions in which Ayurvedic face masks help
The powder of the above herbs is used to make face masks that help:
Prevention and treatment of acne
Very dry or very oily skin
Presence of pigmentation
Pale, thin and exhausted skin
Dark circles around the eyes
Different types of eczema
Common skin diseases that affect the skin of the face
Fresh herbal paste can also be used as a mask to rejuvenate facial skin.
Various oils or creams are used for facial massage
.
They are combined with powders of medicinal plants, which are used for massage, exfoliation and peeling.
Powder massage also helps to improve blood circulation in the facial area.
Ayurvedic facial care products
Some of the most popular Indian and Ayurvedic products used for perfect facial skin are:
No.
1
2
3
4
5
6
Mask prepared in buttermilk oil, rose water or coconut oil; It is most commonly used for pigmentation problems associated with Eladi Churnam
For facial massage, which aims to improve skin tone
Oil used for facial massage
For the treatment of facial scars
For use as a cream in many dermatological conditions, e.g. sunburn
Here you can make
your reservation