Alu Paratha, also called stuffed potato bread, is one of the most popular dishes on the Indian subcontinent.
It is usually eaten for breakfast, but can also be taken as a main course.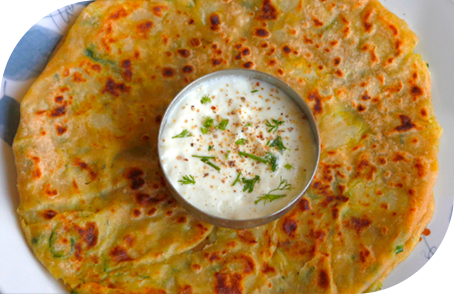 How to prepear alu paratha?


Calories amount per serving:



3-5 medium-sized potatoes – 300-400 g
1-2 finely chopped green hot peppers
¼ tablespoon kashmiri chile
¼ tablespoon garam masala powder
½ tablespoon dried green mango (aamchur) powder
2-3 tablespoons finely chopped coriander leaves (10-15 g)
5 g Himalayan salt / or to taste
10-20 g of sunflower oil or ghee for baking the alu paratha
Boil the potatoes in a pressure cooker, then peel and mash them.
Add the chopped coriander leaves, finely chopped green hot peppers, 4 g garam masala, 4 g hot red pepper, 3 g dried mango powder and salt to taste.
Mix well all ingredients.
Knead a medium-sized ball of dough.
Spread it by hand or with a rolling pin for Roti (Indian).
6. Add a little bit of flour over the dough and roll it into a circle with a diameter of about 13-14 cm.
7. Then place the potato mixture in the circle of rolled dough, leaving about 5-6 cm at the edges.
8. Gather the edges so that the mixture is enclosed in the dough.
9. Then roll out the dough with a little flour to make a loaf with a diameter of 18-20 cm.
1. Alu paratha is prepeared into a heated Indian pan type tray.
2. Fry it on low heat with butter or oil.
3. The bread should become crispy on the outside and soft on the inside.
5. When the bottom is ready, turn the bread over and add ghee / oil if necessary.
6. Fry until brown crispy areas appear.
7. Serve with cottage cheese, pickles and onions
Here you can make
your reservation