Stuffed capsicum peppers (bell pepper)
Stuffed capsicums are a popular and beloved homemade dish in Indian cuisine. They are consumed mainly for lunch, in winter and in spring.
They are perfect for people dominated by the Vata and Kapha energies and should be consumed with caution by people with sensitive stomachs.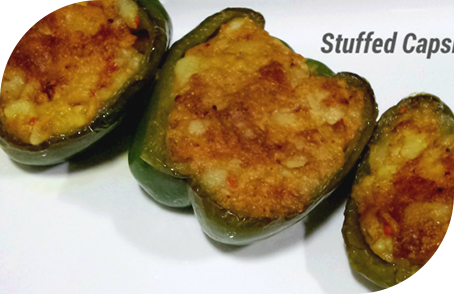 Peppers can be prepared with various fillings such as boiled cheese, besan chickpea flour or potatoes.
The recipe below is for stuffed capsicum peppers with potatoes.
How to prepare stuffed capsicum peppers?


Calories amount per serving:



4-5 medium to large shimla mirch (400-500 g)
4-5 medium potatoes (400 g)
1 small onion or ¼ cup finely chopped onion
1 finely chopped green hot pepper
½ tablespoon cumin powder
¼ tablespoon turmeric
¼ tablespoon hot red pepper
8. ½ tablespoon dried mango powder / or green lemon juice /
½ tablespoon garam masala
2 tablespoons chopped fresh coriander leaves
1 tablespoon oil (preferably local) for frying the onions
1-2 tablespoons oil for frying capsicum peppers
13. Salt to taste (Himalayan)
Stuffed capsicum peppers with mashed potatoes step by step
Boil the potatoes until they get tender, peel them and set aside.
Then remove the capsicum pepper caps.
3. Remove the seeds.
4. Wash the peppers.
Heat the oil in a small pan
Fry the onion to which you have added cumin until it turns golden.
Add the green hot peppers.
Stir the mixture and add ¼ tablespoons of each spice: turmeric, red chili, hing (asafetida).
Add the mashed potatoes.
Fry the potatoes for 2 minutes and add ¼ tablespoon garam masala powder and dried mango powder.
7. Add salt to taste.
8. Stir well, then add 1 tablespoons (5 g) chopped coriander leaves.
9. Stir the potatoes with the spices once again.
10. Set the mixture aside to cool.
11. Fill the capsicum peppers with the potato mixture.
Cooking, garning and serving
Peppers can be cooked roasted or sauteed in a pan – optional.
Heat the oil in a pan and place the stuffed capsicum in it.
Cover the pan and let the peppers cook over low heat.
Rotate them periodically (every 5 minutes).
4. It will take you between 20 and 25 minutes to cook evenly on all sides.
5. Garnish with coriander and mint leaves.
6. Serve with roti or naan.
Here you can make
your reservation