Chana masala or chole masala is a dish with chickpeas and a combination of spices, traditionally present at the Indian table.
According to the Ayurvedic understanding of the relationship between food and energy, chana masala is the most recommended food for people type Kafa Prakruti.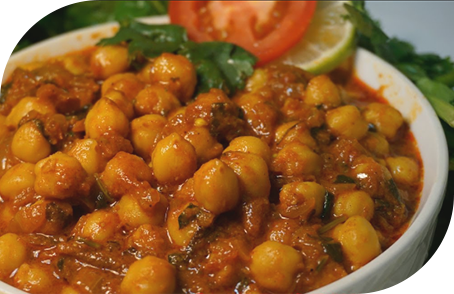 How to make chana masala?


Calories amount per serving:



Ingredients for 4 servings
1. 250 g chickpeas (chana)
2. 500 ml water
3. 1 tbsp. Himalayan salt
Products for the masala paste
1. 5 red hot peppers kashmiri
2. 5 medium-sized tomatoes (400 g)
3. 10 cloves of garlic
4. 8-10 g coriander seeds
5. 15 ml sunflower oil
6. 2-3 green hot peppers
7. 1 teacup of water (or as much as it absorbs)
8. salt to taste (or about 5 g)
9. ½ tablespoon of garam masala (to taste)
10. 1-2 tablespoon of chopped coriander leaves
Products for the sauce
1. 2.5 cm ginger
2. 1 medium onion
3. 1 small green lemon
Preparation of chana masala
Wash the chana (chickpeas) let it soak overnight.
On the next day, drain the water and put the chana in a pressure cooker, adding 2-3 glasses of water.
Add 1 tbsp. Himalayan salt.
4. Cook the chickpeas in a pressure cooker (10-12 whistles) until tender.
5. Drain the water.
Wash the tomatoes and cut them into small pieces.
Peel 7-8 cloves of garlic.
Wash 10 g of ginger and chop it finely.
4. Add the masala of red kashmiri chillies and 2 tbsp. coriander seeds.
5. Stir the mixture well until a paste is obtained.
Heat 3 tbsp. oil on low heat in a saucepan or kadai pan.
Add the masala paste.
Stir constantly for 7-8 minutes until the fat evaporates.
Then add ½ tsp. water (if necessary) and 2-3 green hot peppers.
Mix all the products and stir for 3-4 minutes on low heat.
6. Then add the boiled chana and mix it with the rest of the masala.
7. You can also add more water to increase the amount of sauce.
8. Cook the mixture for 10-15 minutes on low heat.
9. If you want to thicken the sauce, lightly mash the chana.
10. Once the mixture is cooked, add garam masala and salt to taste.
11. Leave the meal for another 5 minutes on low heat, then garnish with coriander leaves.
Here you can make
your reservation