Dessert is a sweet dish, usually served at the end of a meal. In Ayurveda, most desserts are fried, baked or cooked otherwise.
According to the Ayurvedic diet, the best time to eat sweet foods and desserts is after lunch.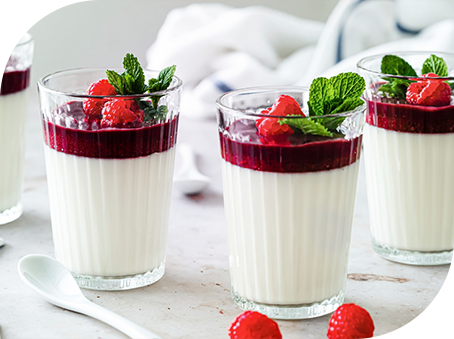 Ingredients for Ayurvedic desserts
These sweet dishes contain several large groups of products:
Milk – fresh milk, yoghurt, nut milk, coconut milk or condensed milk.
Sweetener – sugar, sugar syrup, dried fruits, dates, etc.
Extra ingredients – cereals and legumes, flours, nuts, tahini, etc.
Oil – ghee or various types of vegetable oils.
Additional spices – cardamom, nutmeg, cinnamon, etc..
Kheer – rice pudding made from rice, sugar, milk, ghee and dried fruit.
Ras Malai– reduced milk with pista.
Shira – semolina, ghee, nuts and milk.
Rabri – dish with condensed milk, sugar, spices and nuts.
Peda – condensed milk with sugar.
Moong halwa – milk, moong dal, sugar, ghee and dried fruits.
Carrot halwa – milk, grated carrots, sugar, ghee and dried fruits.
Gulab Jamun – dessert made from flour, milk and ghee dipped in sugar syrup.
Almond halwa – milk, almonds, ghee, sugar.
Agra Petha – white pumpkin, sugar, green lemon, alum.
Balushahi – maida flour, yogurt, oil, sugar.
Besan ladoo – besan (chickpea flour), ghee and sugar.
Jalebi – fried dough, rolled up in a spiral and dipped in sugar syrup.
Kaju Katli – paste of cashews, ghee and sugar.
Boondi – round balls based on sugar syrup made from chickpea flour.
Here you can make
your reservation