Ayurvedic recipes with milk are prepared with both milk and its derivatives: yogurt, buttermilk, pure butter, cheese, cottage cheese and cream.
Spices are added to dairy products in order to enrich the taste and expand the benefits.  
Below you will find recipes and consumption recommendations for all dairy products in Ayurvedic cuisine.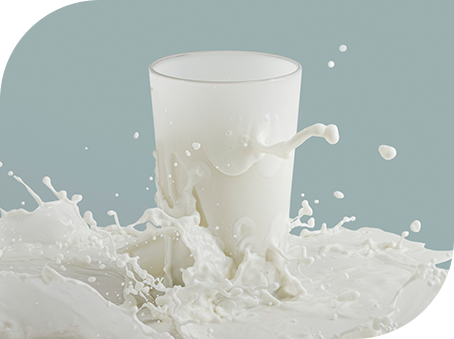 Honey is one of the most popular supplements to fresh milk.
Apart from it, spices are also used to prepare useful hot drinks such as:
Milk with turmeric
Milk with saffron
Milk with cardamom
Milk with nutmeg
Milk with almonds
Milk with dried ginger
Cottage cheese is usually consumed with sugar, fruits, spices and vegetables.
Some traditional combinations include:
Pineapple raita with cottage cheese
Cucumber raita with cottage cheese
Cottage cheese with urad dal, sesame oil and ginger
Cottage cheese with honey, sugar and ghee
Cottage cheese with basil, banana and honey
To make the cottage cheese easy to digest, it can be consumed with black pepper or ginger powder.
It weakens Kapha, increases Pitta, helps with indigestion and helps to lose weight.
It is prepared by mixing equal amounts of water and yogurt or by mixing water and yogurt in a ratio of 4: 1.
The less milk, the easier it is to digest.
Some popular recipes with Indian buttermilk include:
Buttermilk with coriander powder
Buttermilk with cumin seeds
Buttermilk with ginger powder
Buttermilk with wet coriander, peppers, curry leaves and wet ginger
Buttermilk with rock salt
Buttermilk with asafetida, metha, etc.
When the spices mentioned above are used together, the drink is called masala buttermilk and is used to treat various diseases, especially hemorrhoids and obesity.
In Ayurveda, yogurt is considered a heavy food that leads to weight gain.
Opposite of Western beliefs, according to Ayurvedic texts, yogurt contributes to the deterioration of the gastrointestinal tract and causes imbalance in the doshas – Vata, Pitta and Kapha.
 As a rule, yogurt should be consumed on an empty stomach and in limited quantities.
White butter is made by whipping whole milk and is good for people with good digestion and dominant Pita energy.
It can be used to balance spicy foods, as well as a substitute for cooking oil. Helps with burns and skin rashes, and it is also a good moisturizer.
In Ayurvedic cuisine, white butter is most often consumed spread on bread.

Ghee is prepared by melting raw butter. It is easy to digest, increases strength, vitality and intellectual ability.
It is used mainly to balance the food, to strengthen the body's nutrition and the immune system.
It can be consumed with food or milk, adding 1-2 tablespoons to each food, and about 1 teaspoon ghee to each drink.

The cream is extracted by boiling the milk.
When mixed with turmeric powder, it is an excellent moisturizer for external use on the skin.
For internal use, the cream is used mainly spread on bread, but can also be consumed with sugar.
The cheese is heavy and sticky and that is why Ayurveda defines it as rather difficult to digest.
The heaviest cheese can be partially counteracted by spices such as mustard, black pepper, cumin and ginger powder.
It can be spread on bread or added to food.
Fresh cheese is lighter and easier to digest than traditional cheese.
It can be consumed as a supplement to bread, but also as a dairy product in many dishes, including various types of curry.
Dishes that can be prepared with fresh cheese are, for example:
Ingredients:
onions, ginger, garlic, tomatoes, cashews, bay leaf, hot peppers, whole milk, kasuri methi, dried fenugreek leaves, garam masala powder, coriander powder, cayenne pepper, fresh source cream, butter, salt, paneer, turmeric.
Ingredients:
fresh spinach (palak), peppers, garlic, ginger, onion, cumin seeds, turmeric, cayenne pepper, asafetida, garam masala powder, paneer, cream, ghee, kasuri methi (dried fenugreek leaves).
Ingredients:
paneer, pepper, onion, strained cottage cheese, ginger, garlic paste, green lemon juice, red hot pepper, garam masala, tandoori masala, turmeric powder, nutmeg powder, cornstarch, oil, salt.
Consumption of dairy products according to the body type
Here's how to consume dairy products properly according to the body's predominant energy:
Vatha Prakruthi
Butter Clarified
Cow milk
Cheese
Yogurt
Pitha prakruthi
Butter Clarified
Paneer (fresh cheese)
Milk
Yogurt Cream
Karha prakruthi
Ghee
Milk
Yogurt
Buttermilk
Here you can make
your reservation